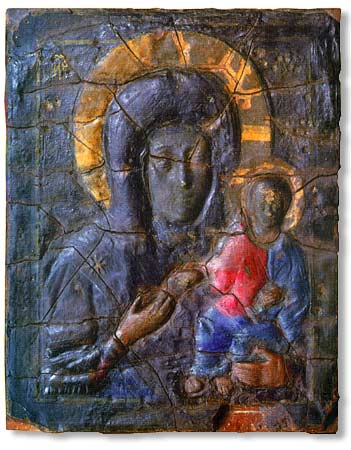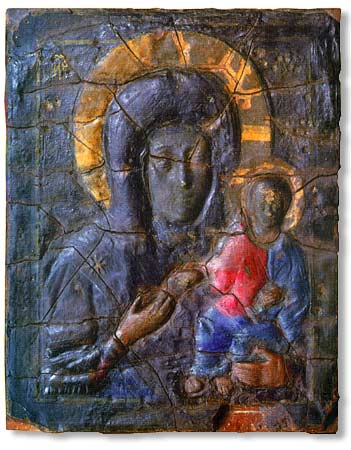 John Tavener has become one of Britain's most well known composers over the last twenty years. The nature of his musical compositions underwent a dramatic change following his entry into the Orthodox Church.
Of the three pieces reviewed here, two are instrumental and one is unaccompanied singing, with a bass drone to anchor the melody. The Protecting Veil was inspired by the Orthodox feast of the Protecting Veil of the Mother of God, which commemorates the apparition of Mary the Theotokos in the early 10th century at the Vlachernae Palace church at Vlacherni, Constantinople. The work is written for a solo cello, accompanied by strings, comprising eight sections, with the last section reprising the first section's hauntingly majestic theme. The cello part sounds uncannily like a human singing voice in places, and conveys an impression of a timeless influence which is trying to reach us. The Last Sleep of the Virgin was written in 2002 just before Tavener underwent major heart surgery. To reflect the fact that the composer himself found the music was "almost beyond my grasp", the performers are directed to play "at the threshold of audibility". The music (instrumental) enacts the Falling Asleep and burial of the Mother of God by the Apostles, and was also written in homage to Dame Margot Fonteyn, the famous ballerina. The effect of trying to listen to such quiet, contemplative music with a predominant use of handbells is touching and enlivening.
The final piece, Song for Athene, was performed at Princess Diana's funeral in 1997. It was written in April 1993 by Tavener as a tribute to Athene Hariades, a young half-Greek actress who was a family friend killed in a cycling accident. He had heard her reading Shakespeare in Westminster Abbey, and after her funeral, developed the idea of composing a song which combined words from the Orthodox funeral service and Shakespeare's Hamlet. Like the Protecting Veil, the piece starts and ends with the same melody – a beautifully simple "Alleluia" sung by the tenors accompanied by a bass drone. In a few minutes, the piece offers short musical splinters of recollections of a life cut tragically short, but nonetheless including joy and thankfulness.
All of these pieces deserve to be actively listened to without background noise. John Tavener's music has been described by some as icons of sound. These three pieces produce a strong impetus in me to reflect and to search inwardly.
Geoff Butts