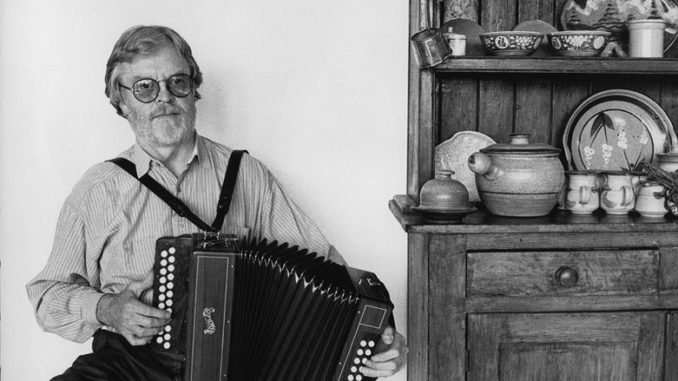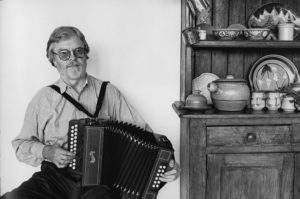 This relates to a previous article published on In Between entitled 'Irish Fiddle Music: Searching for the Source of a Tradition'.
Tony MacMahon is a button accordion player who has done much to bring authentic Irish traditional music to the attention of the wider public. His story is an interesting one. He learned his music from a number of the respected older players such as John Kelly, Seamus Ennis and Joe Cooley. He claimed that the music was essentially personal and intimate, and that in the right setting it could have a transforming effect on the listener. He was quite outspoken about the negative effect of commercialism.
Here is a link to a documentary about Tony MacMahon. It is particularly interesting from 19:59 on.  The fiddle playing of Caomhin O'Raghallaigh at 21:28 is worth noting, as is the singing of Ciaran O Gaelbhain at 7:37.  Tony MacMahon has in recent years contracted Parkinson's disease – you can see the evidence of the onset of this in the film. You will need to skip through the adverts.

He wrote a paper outlining his ideas called 'The Language of Passion' in which he quotes how the older generation of musicians, most now passed on, referred to the way 'the whole climate of the mind could change in seconds, binding listener and musician in a shared spiritual moment'. This paper can be read here:
THE LANGUAGE OF PASSION::: A Paper by Tony Mac Mahon
An extract from his memoirs and other writings can be found here:
http://journalofmusic.com/author/tony-macmahon
Around 2012 Tony MacMahon along with Steve Cooney initiated a series of 'Kitchen Concerts' in which he performed music in intimate domestic settings that encouraged a meditative approach to listening. In 2016 Tony MacMahon recorded a CD of solo slow airs called 'Farewell to Music' before being compelled to retire from public performance:
At the present time Tony MacMahon is in Bangalore seeking a remedy for his condition, writing his memoirs and exploring Indian traditional music.
Ashley West