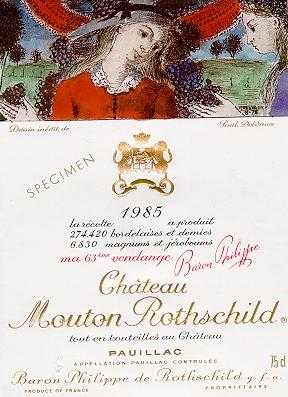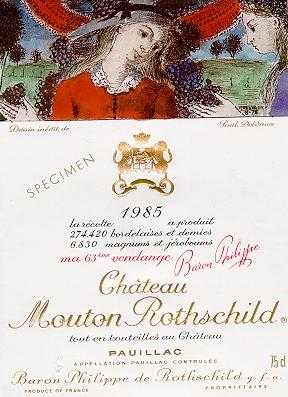 Understanding a Wine List and Labels
There is no point in buying a French wine that does not have an Appellation (see below), or a German wine which is not a Qualitätswein.
On a wine list (any genuine independent wine merchant will let you have one), you might see, under Red Bordeaux, the following: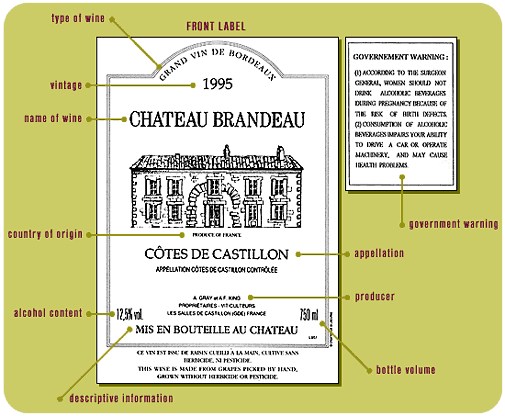 Another example with the name of the wine on a merchant's list:
1995 Chateau Vieux Taillefer, Pomerol
On the label of that bottle would be:
Chateau Vieux Taillefer
1995
Pomerol
Appelation Pomerol Controlée
Mis en Bouteilles au Chateau
Vignobles J.M. Moueix, propriètaire à Pomerol
Produce of France
75cl 12.5%vol
This wine was made at the Chateau Vieux Taillefer in 1995 in the Pomerol region of Bordeaux. Monsieur Moueix is the wine-grower and owner of the chateau. Appelation Controlée means that the origin and production of this wine is checked by the government- each approved wine-growing region has its own Appelation. Mis en bouteilles…. means chateau-bottlerd. 75cl- cl is centilitres, so it's ¾ litre (standard size). 12.5% is the alcohol content.
Under Red Burgundy you might find:
1990 Chambolle-Musigny Charmes, Clerget
On the label would be:
1990
Estate bottled
Chambolle-Musigny
Charmes
Appelation Chambolle-Musigny 1er Cru Controlée
Georges Clerget
Propriétaire-Récoltant à Vougeot (Cote-d'Or) France
13.5% 75cl
This 1990 wine is from the Charmes vineyard in Chambolle-Musigny, in the Cote-d'Or region of Burgundy. The Appelation is 1er Cru- first growth- given only to top wines. Monsieur Clerget is a proprietor and bottler in that region.
Under Red Rhone you might find:
2001 Crozes-Hermitage, Guigal
On the label would be:
2001
Produit de France
Crozes-Hermitage
Appelation Crozes-Hermitage Controlée
E. Guigal
Elevé et mis en bouteille par E. Guigal Rhone France
This 2001 wine was produced in Crozes Hermitage, which is not a single vineyard but a designated area of production in the Rhone valley, with its own Appelation, grown and bottled by Monsieur Guigal.
Under Germany you might find:
1989 Erbacher Siegelsberg Riesling Auslese, Schloss Reinhartshausen
and on the label:
Schloss Reinhartshausen
Rheingau
1989 er Erbacher Siegelsberg Riesling Auslese
Qualitätswein mit Prädikat
750ml Alc 9.0% by vol
This wine is from the Siegelsberg vineyard in the village of Erbach in the Rheingau, one of the top wine-growing regions of Germany, made in the Schloss Reinhartshausen estate from the Riesling grape, using only the ripest hand-picked bunches of grapes. It is a certificated quality wine.
The German quality designations, from the bottom up, are:
– Kabinett
– Spätlese (late harvested)_
– Auslese (best bunches at the late harvest)
– Beerenauslese (best individual grapes at the late harvest),and finally
– Trockenbeerenauslese (individual berries attacked by Botrytis,
"noble rot"- makes the skin porous and the result is an
extraordinarily concentrated wine, though low in alcohol content.
The greatest test of a vintner's skill. Prices up to two thousand
pounds a bottle- which apparently does not recoup production costs!
Usually sold in half bottles.)
There is also Eiswein – made by harvesting very late, usually in December, early in the morning in the darkness, after a severe frost, ripe frozen grapes and pressing them so quickly that the ice (which has drawn water out of the grapes) does not have time to melt. Also very concentrated and low in alcohol, but there is no noble rot- different flavour.