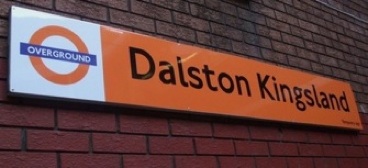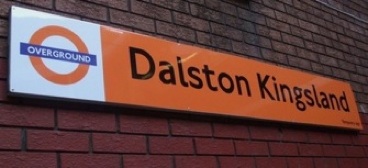 Two special London cafés
A response to The Best Cafes and Coffee in London
'Don't go back to Dalston !' Razorlight's song rings out and so it may be a warning to you that it's a no go area. Don't go there and certainly if you have gone, don't go back !
But, pause for a moment. What does Dalston have to offer? Well, it's Hackney for a start- historic, notorious, vibrant, young and trendy. It's the Kingsland Road not the King's Road, stretching from St. Leonard's's church Shoreditch at one end, where the great BBC comedy 'Rev' is filmed [that's another review]and Haggerston overland rail stop at the other. Along the road are colourful African import-export shops wedged between hip vegan supermarkets, good value Vietnamese eateries, the superb Geffrye Museum (http://www.geffrye-museum.org.uk/) and outlandishly priced loft apartments. It is also fringed by rather style-bereft council estates, the architects of which I believe may have broken their asbos for design crimes.
This part of Hackney is also traversed by the Regents Canal stretching all the way from Paddington to the Pool of London. In the old days this water highway was a vital link from West to East London. And all along its banks was the sound of pounding little workshops, small foundries, glove, brush and handbag factories; glass cutters and typewriter renovators sang a daily hymn celebrating the hub of local small scale manufacturing – all but gone today.
As usual with the regeneration of such urban areas, the trendies moved in and artists' studios sprouted here and there along with successful renovations like the Gainsborough film studios waterside apartments. Ever more yuppie–targeted blocks of flats are works in progress, right now as I write this. I remember looking onto the canal one day when the sun was shining and thinking how pleasant it would be if there were a nice place to eat here.
Then it happened, the 'Towpath Café' appeared – and I wasn't disappointed.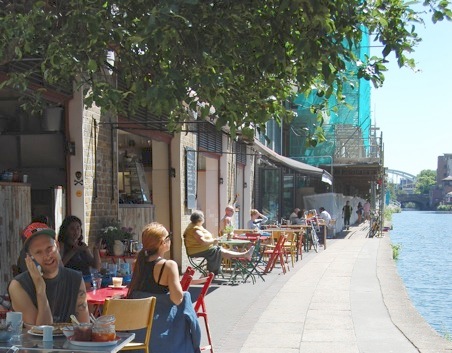 The Towpath Café
It is situated beside the bridge that crosses the canal at the junction between Orsman Road and Whitfield Street: take the canalside turning off the Kingsland Road after Orsman Rd if coming from Shoreditch or the one before, opposite the Pattern Cutters market if coming from Haggerston.
Last week I had a grilled-I can't recall the name of the English county it hailed from-cheddar cheese sandwich of whole grain bread, peppered with tiny spring onion rings and served with a little metal side dish of – wait for it – rose coloured quince jelly. A bit odd you foodie conservatives might think- but no this combination was absolutely delicious. Its accompaniment was a perfectly frothed latte in a neat glass tumbler.
With excellent canalside ambience, peaceful passing barges, comically darting coots and a splendid wooden boat moored directly opposite, this cost me £8. Not cheap but so memorable and filling that I'm sharing it with you now and I don't normally do that.
The café is set into three alcoved areas including the kitchen, beneath a block of very smart loft style flats. Not only is the Regents Canal a great place for a long fascinating walk but it's a cyclists' paradise too. Listen for their bells warning you of their approach, especially 'neath the many bridges' whose arches criss-cross the canal's route.
The impression of this eating place is what I would call French pastoral, brightly coloured metal chairs and wooden benches, bunches of wild flowers in glass jars, the menu chalked up on a child's black board – the staff friendly and professional in their retro grandma aprons. Observing the clientele, they ranged from local people out strolling their dogs, web designers deep in conversation about their projects and fine art alumni meeting up to discuss their studio work.
A truly lovely place to have coffee – sample their palette-tempting home-made biscuits and daily varying lunch time menu too, such as aubergine, paprika salad on stoneware pottery plates.
A very good reason to go back to DALSTON!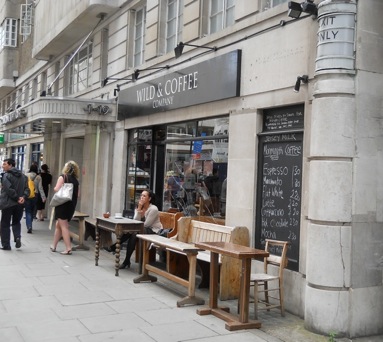 Wild and Coffee
If you take the 243 from the Kingsland Road to Red Lion Square you'll end up at Holborn – how this area has changed!
I remember the days when Kingsway was a ghost town after rush hour, let alone after dark, since only insurance offices and building societies seemed to trade there. With the exception of the City Lit and the LSE it was a deserted place and there was not much reason to go there except to check out a lost savings account. Nowadays it is an extremely busy, noisy neighbourhood with its fair share of bars, restaurants and pubs. However five minutes walk from where Southampton Row meets Kingsway and Sainsbury's flanks Metro Bank, there is a little bit of coffee heaven. 'Wild and Coffee' is a bijoux café, situated on the Holborn side of New Oxford Street which you might not notice if you were hurrying past.
It is discreet and very cosy, not a location that immediately fosters a nostalgia for favourite childhood TV programmes but if, like me, you were born in the late 50's early 60's, it is a veritable journey down TV memory lane. It's walls are covered with cut outs from magazines sporting the likes of The Avengers star Patrick McNee, the cast from Dad's Army and a group shot of the Magic Roundabout puppets. Taking pride of place is a magnificent scowling colour pin up of Coronation Street star Violet Carson as Ena Sharples of course. She doesn't quite welcome you as much as dare you in with her commanding expression.
This coffee shop is not the Finsbury Borough equivalent of a Mancunian back yard brickie for gossip-it's far, far more sophisticated than that. With its wooden wall panelling, church pews, quaint vintage crockery and scrubbed table tops it's the perfect place for breakfast, a mid morning escape from office working lunches or an intimate tête a tête, especially in the shady little vestibule aptly named The Nook. To use a much coined descriptive phrase, it is quite simply charming. The café latte is excellent,take away or stay in, I recommend staying in to sample the marvellous, home-made gateaux, mouth-watering oversized lemon tarts and luscious, rustic sandwiches.
What a difference from the larger, globally branded, conveyor-belt -like morning coffee experience! Wild and Coffee invites you in to perhaps how things used to be in the 17th century heyday of the great London coffee shop-and you do feel welcome. In here you could start a novel, plan a TV programme, re-write your job appraisal or scan a position on the FTSE.
Excuse me while I adjust my periwig to take in that aroma…..
Words and images: Sovati Smith
Wild and Coffee
1 Unit 19 New Oxford Street,Bloomsbury, London, WC1A 1BA
Mon-Fri 07:30-17:45 Sat 10:00-17:30 Sun closed
Tube: Tottenham Court Road Tube Station (0.2 km) or Covent Garden Tube Station
Towpath
42 De Beauvoir Crescent, London Borough of Hackney, N155B
Regent's Canal towpath, between Whitmore Bridge and Kingsland Road Bridge
Transport: Haggerston rail, Hoxton tube or 67, 149 bus