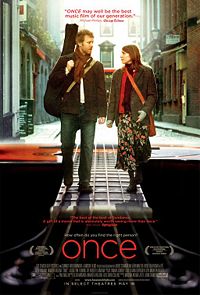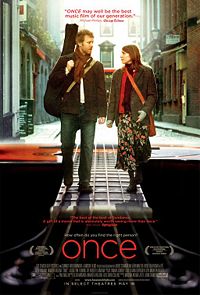 Directed by John Carney 2007
Once is a tale of two kindred spirits who meet on the bustling streets of modern Dublin. The film offers a gentle bow to the classic movie musicals of the past.
The simple story provides a setting for the songs sung by the two central characters. "Guy" is played by Glen Hansard, who performs the part of a struggling street musician. One evening, while singing one of his own compositions the "Girl" (Markéta Irglová), a newly arrived immigrant in Ireland, approaches and questions him about his songs
Hansard is the vocalist and guitarist for the rock group The Frames. He left school at the age of thirteen to go busking on the streets of Dublin. He first came to widespread attention as the guitar player Outspan Foster in the film Commitments. Markéta Irglová, who brings a wonderful unspoilt freshness to the movie, began playing music by ear when she was seven. Neither is a professional actor.
Technically one can find many faults with this film, but these become unimportant in the overall presentation. It was made on a shoestring film budget of £100,000 and was an unexpected success at the 2007 Sundance Film Festival, where it was awarded the World Cinema Audience Award for a dramatic film.
I enjoyed this warm poignant uncomplicated movie.