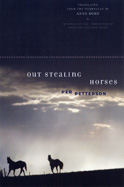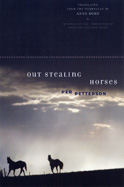 Per Petterson
Vintage Books
This is a gem of a novel and has similarities with Tove Jansson's The Summer Book whereas the latter is a gentle story of the relationship between grandmother and granddaughter, this is a tale tinged with the autumnal sense of loss, as an older man looks back upon his life and the relationship with his parents, particularly his father.
The tale is told through episodic ebb and flow within the mind of the narrator, as he recounts a series of incidents set both in the 1940's and now when he is facing the advance of old age. Rarely have I read a book that conveys so well those so often hidden life, tender moments of a teenage son seeking to be as one with his father. The narrator, Trond, has returned following the death of his wife, to a remote part of the Norwegian landscape where he and his family spent childhood holidays. He lives now, alone, in a small house amidst the pine and birch trees, near a lake into which a small river flows.
In 1948 Trond and his father left Oslo to spend the summer in an isolated part of the country near the Swedish border. Here Trond met Jon who encouraged him to go out 'stealing horses', a euphemism for riding the local farmer's horses without his permission. But tragedy strikes with the accidental shooting of a child; this incident provides the fulcrum for the novel
The story is one of yearning and loss, loneliness and confusion. Life appears nostalgic and slow moving, passing through the Scandinavian landscape with its light summers and dark forested winters. There are the adults with their secrets, and a father who one day does not return while his son waits …
Out Stealing Horses was awarded the Independent Foreign Fiction Prize in 2006 and also the International IMPAC Dublin Literary Award in 2007 and in my view deservedly so, it is a well crafted, accomplished and evocative read.