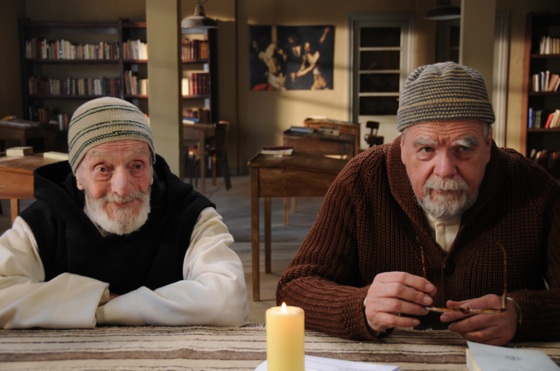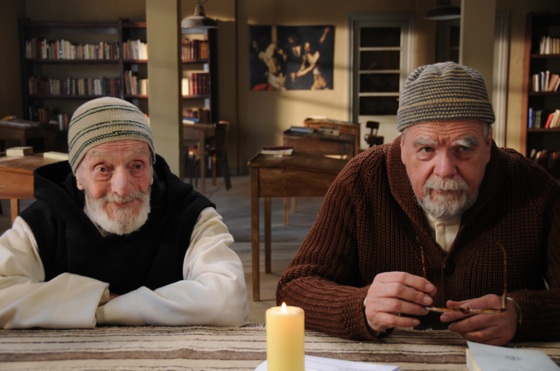 Directed by Xavier Beauvoir (In French with subtitles)
This in an impressive film based on the true story of French Cistertian monks living in the foothills of the Atlas Mountains during the civil war in Algeria.
We are first introduced to the way in which the monastic community serve the poor villages in the surrounding area. While farming and living frugally themselves, they sell the honey from their hives in the local market but above all it is Luc, the elderly and ailing physician, who ministers to the local community. He has their trust and it is to him they turn for advice as well as treatment. As the incursions of Islamic fundamentalist guerilla groups become more deadly and alarming, his workload steadily increases.
One night armed jihadists break into the monastery demanding medical help for their wounded. There is a tense confrontation between their leader and Brother Christian, the elected head of the monastery. His courage and calm resolution are palpable, in dialogue with the guerilla leader he offers a quotation from the Qu'ran about the relationship between Muslims and Christians which the latter completes and a mutual respect is engendered which leads to a stand off-significantly it is Christmas Eve. From then onwards,with increasing urgency, the monks are faced with the question of whether they should stay in a situation that endangers their lives or return to France.
In a succession of meetings we witness the sharply contrasting expressions of each individual monk seated round the table and are invited to share the doubt and inner turmoil so evident in their faces. While a war plane advances overhead above their chapel, there are moments of stark confrontation with the very real possibility of their own deaths. Nevertheless the decision to stay is finally agreed, a celebratory meal and two bottles of wine are shared. Tchaikovsky's Swan Lake plays on their cassette player and we witness the Brothers' conflicting emotions orchestrated by the music: relief, questioning,sadness,fear and joy, in quick succession. Few words are exchanged but much is felt. By the end of the film we feel that they have come to embody their faith. It is a parable for our times.
Lesley Croome
Showing now in selected cinemas