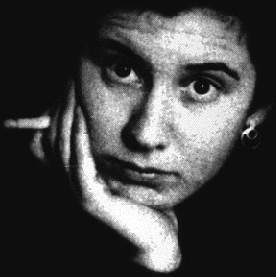 "To think one can have enough love in oneself to pardon God!". A strange sentence and even stranger coming from someone in a Dutch prison camp for Jews awaiting deportation to the gas chambers of Auschwitz in 1943. But, as her published diaries and letters reveal, Etty Hillesum was no ordinary person and, even if she apparently had had no formal religious education, in a matter of three years she attained a level of spiritual maturity comparable to the greatest of the mystics.
Etty was born in 1914 into an 'assimilated' (ie non practising) Jewish family of teachers. She took a degree in law and studied Slavic languages, her mother having fled the pogroms in Russia. She was not a brilliant student and engaged in left-wing political movements. In 1940, when she was 26, she became acquainted with Julius Spier, ( referred to in the diaries as "S."), a German Jewish immigrant in Amsterdam, who had studied with C-G Jung and practiced chirology – a method of establishing medical diagnosis principally from the lines in the hand. Spier was a deeply spiritual being and was to have a profound influence on her : besides becoming Etty's lover (she reports several others in her writings), it was he who introduced her to Kierkegaard, Bonhoeffer, St Augustine, Meister Eckhart, Rilke and many others. It was he, too, who induced her to begin writing her diary in March 1941.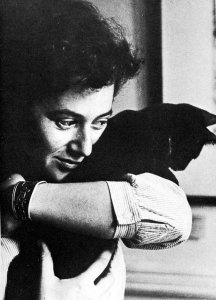 From page one, Etty reveals herself as an extremely complex but equally lively person: "All right, here we go!1 A painful, almost insurmountable, moment for me: to conquer my reluctance and to confide the bottom of my soul to a mere sheet of lined paper…A huge inhibition; I dare not open up and freely give vent to my feelings, and yet it shall have to be if I wish ultimately to make something of my life…I am quite refined and, I daresay, expert enough to be counted among the good lovers …but love is only a game that eludes what is really important and something deep inside me remains locked up." But quite soon she overcomes her inhibitions and declares that every word she writes responds to an "inner necessity". So the essential questions come to the surface and, despite her avowed weaknesses and moments of despair, Etty faces up to them. One year later she will write : "Never give up, never escape, take everything in, and perhaps suffer, that's not too awful either, but never, never give up… If one finds the strength to deal with small things, one finds it to deal with the large ones as well."
Etty mentions, almost without complaint, the strain resulting from the growing number of restrictions imposed by the Nazis on the life of Jews in the Netherlands and reluctantly, but seemingly to put her spiritual life to practice in these trying times, she volunteers to work for the Jewish Council set up by the Occupation and very soon plays a useful part in what is euphemistically called the department of Social Welfare for People in Transit at Westerbork (the prison camp for Jews awaiting transfer to the gas chambers in Auschwitz). There she becomes "the thinking heart" of the camp and dedicates herself to relieving the suffering of the inmates.
But her growing understanding is by no means exclusive. She writes : "I have so much love in me, for the Germans, for the Dutch, for the Jews and the non-Jews, for the whole of humanity…I want to put myself in the middle of all what people call these atrocities" and, in spite of it all, to repeat constantly : "Life is beautiful and rich in meaning". In July 1942, her diary notes :"Every day I am in Poland on the battlefields, or one should say, the massacre fields. Sometimes I have a vision of the battlefields coloured in green like poison and I am with the starving, the tortured, the dying, each day; but I am also as close to the jasmine and the stretch of sky outside my window. In life there is room for everything. For faith in God and for a miserable death."
Etty Hillesum consistently turned down offers to go into hiding. She said that she wished to "share her people's fate " and inside the camp, she discovered in her search : "…myself; in this deep recess, the richest part where I gather myself, I call it God". But this is no easy solution for, as she wrote : "I believe that one can get positive things out of life whatever the circumstances, but one has only the right to say that insofar as one is ready oneself to confront the worst circumstances. I often think that one should pick up one's rucksack and get on board the convoy with the others". Which, ultimately, she did.
Etty Hillesum was deported to Auschwitz and was gassed there on 30 November 1943. In July that year she wrote : "Life is a wonderful and grand. After the war, we shall have to build an entirely new world, and we shall have to meet the imposed constraints , every new act of cruelty, with ever more love and goodness to be drawn from ourselves."
David Mardell
An Interrupted Life: The Diaries and Letters of Etty Hillesum. Preface by Eva Hoffman, London: Persephone Books,1999.
Etty: The Letters and Diaries of Etty Hillesum 1941–1943. Edited with an introduction by Klaas A. D. Smelik, translation by Arnold J. Pomerans. Ottawa, Ontario: Novalis Saint Paul University – William B. Eerdmans Publishing Company, 2002. (ISBN 0-8028-3959-2)