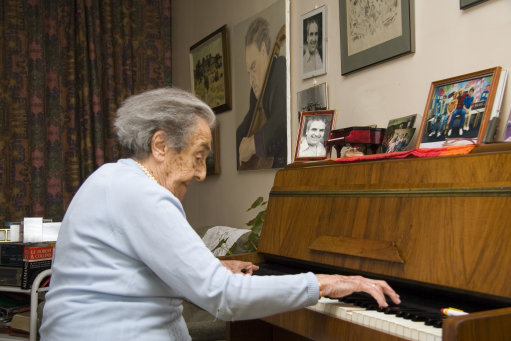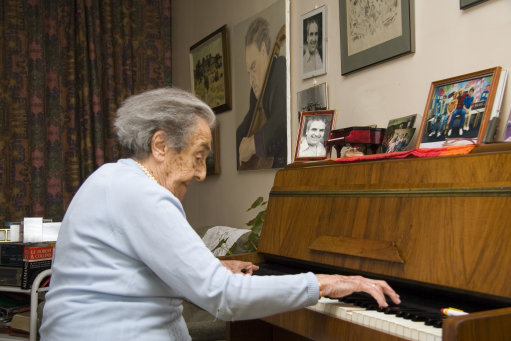 It is a wonderful thing to reach the age of 108 and to be able to say, "Very hard experience in life makes you much richer".
Interviewed in a BBC World Service programme, the concert pianist Alice Herz Sommer has led an extraordinary life.  She was born into a musical Jewish family in Prague and started playing the piano at the age of three. Her mother had played with Gustav Mahler as a child, and Franz Kafka was a family friend who visited their home. Alice became well known as a concert pianist, often broadcasting on the radio.
During World War II, in 1943, she was deported by the Nazis to Terezin (Theresienstadt) together with her beloved violinist husband and their 5 year old son. Her husband was subsequently sent to Auschwitz, never to return. Alice and her son remained behind and the discipline and attention she brought to her piano practice and the recitals she was able to give, helped to sustain her through illness and near starvation in a camp where thousands of prisoners died. It was music and the loving care with which she sought to protect her son that kept her alive.
After thirty five years in Israel, Alice now lives in London. Although her son Raphael Sommer, a gifted cellist and conductor, died in 2002, she continues to lead a life filled with delight in music, friends and family. "When I am with young people" she says, "I am actually younger than they, full of interest and enjoyment". And,"We are surrounded by miracles, the world is a miracle, our brain is a miracle, the nature.. What we need when we are old is actually quietness"
The interview with Judi Herman is available for listening until January 1st 2012.
http://www.bbc.co.uk/programmes/p00lw91w
or longterm:

Heart And Soul, Alice Herz Sommer

(12.1MB)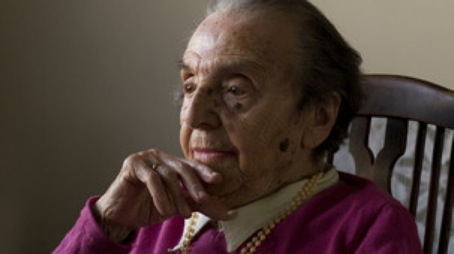 Photos-Marion Davies
A Garden of Eden in Hell: The Life of Alice Herz Sommer
by Melissa Muller and Reinhard Piechocki
Published by Pan Macmillan and available through Amazon.