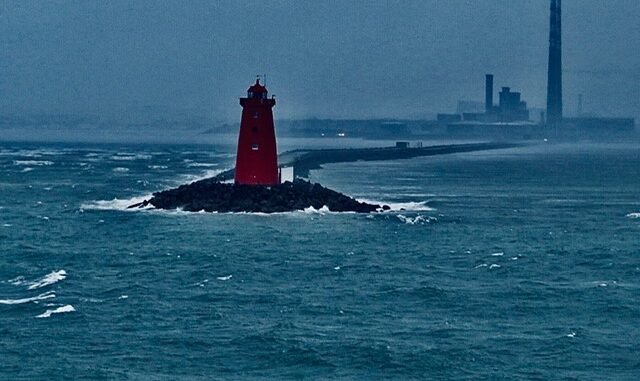 Dublin, Dark City of Tongues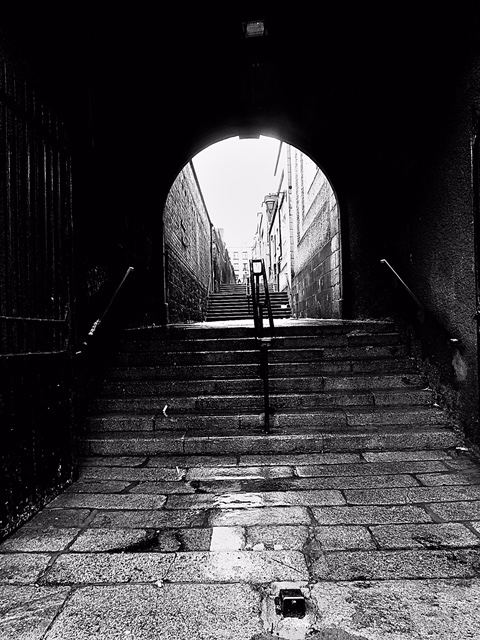 Clouds hung grey drag rains drumming
along streets lined with rows of cottages
that cross, crisscross stone-cobbled laneways
named in Elizabethan Tudor, Old Norse-Irish flavoured tongues.
The man walks sprung down along the tidal spine flowing
into marrow'd feet, flesh pulsed, pushed into earth-walking
through muddled Portobello, the Coombe, Liberties —
arch under by medieval Christ Church
puddled asunder around Usher's Quay
into the veined darknesses of Liffey River,
where herring seagulls speed as feathered, curving arrows
loosing their echo of other worlds
into the undefended black dawns of bedded heads.
Nearby where the crusaders dried out bog-brown carcass
remains entombed in Eastern war in St Michan's crypt —
rub his hand there now for luck as a child he was told
and he barrelled his fear of death and hooped the dead and did
and years later drank, the dank stale smellings of goozing porter
which vaped its vampire happiness upon slum poor and groped
this coal-smoking, villaged, primitive city.
Stand up now! Jim Larkin urged in nineteen thirteen  
and striking workers did,
he stills there stand, fossilised stone, shit-stained 
on O'Connell street with arms upstretched to sky —
they were beaten, crushed into maimed obscurity
and some, trenching sideways, walked into revolution
bandolier'd shadows shadowed,
presented onto Grafton Street for civil killing
asleep killing, to awaken into freedom's kippered sleep —
and women, their malnourished emotions coiled,
tightening round threadbare thin children
who together and individually alone were currented inward
through the difficult squalls of adults' murky laughter
These stranger, recurrent cuttings from abandoned umbilical cords —
formed into moments for memories, enfolded into lives,
offerings to the alabaster's little death —
clutching loss and hope bent equally under vertical breath
beginning at their endings to be
the gathered leavings floating outward towards dispersal
beyond Ringsend, Bull Wall, Poolbeg
Ted MacNamara
Footnote – There are many Dublins, this is but one view drawn from its bleak dark side of war, poverty, alcoholism, unemployment, despair, and large scale emigration the result of which has become known as the Irish Diaspora. The tone of the language used and ways of expression have been drawn mostly from one of the oldest parts of the city around the Liberties where there is still an unique community which is gradually fading away. In comparison to what had occurred In Finland and Russia and what was to follow some years later in Spain the Irish Civil war June 1922 – May 1923 was small and brief. It did however leave, as did the partition of the island (enacted in May 1921) a bitter legacy. Jim Larkin 1874 – 1947 born in Liverpool was a renowned socialist and trade union leader. The momentous strike and general lockout of 1913 is well portrayed in the novel Strumpet City by James Plunkett published in 1969. Poolbeg lighthouse is at the entrance to Dublin harbour. The city has two medieval Cathedrals, Christchurch and St Patrick's.)