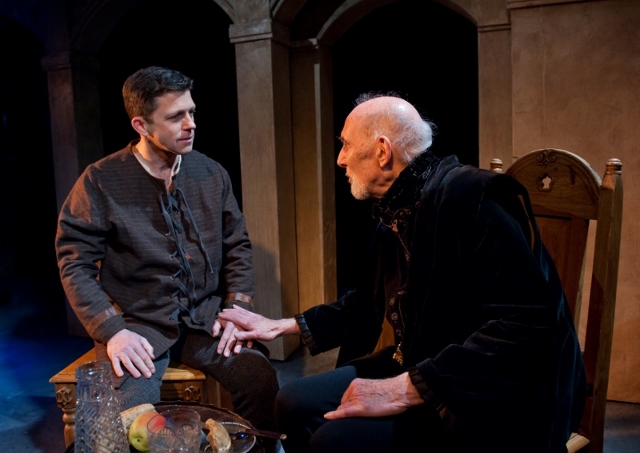 3 Reviews
As the play begins we join a couple engaged in conversation. I say join, because despite the setting and their clothing, the way they speak to each other is sincere, natural, human. We are drawn in. As the scene progresses, alternating between two different conversations, we may not yet see the entire picture but we are already interested, engaged with these important encounters.
The play presents us with vital questions – how can a tradition be maintained? What is of value in a spiritual teaching? What is the responsibility of an individual within a tradition? What does it mean to be a Christian? What does it mean to be human? Our own experience will raise different questions for each of us.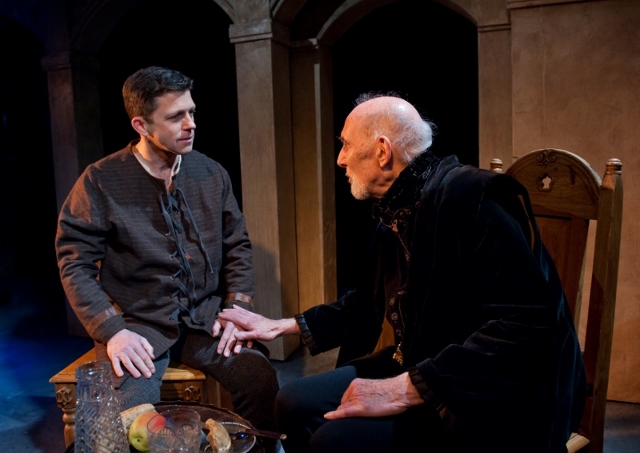 For me there was a moment when Carlos, a young man who has the potential to maintain a teaching at threat, is sitting quietly in the hallway, in the background. In the foreground Don Felipe – an older man who has witnessed much both as a Cathar and a man of knowledge – argues with Don Domingo his student (and perhaps more than that) – now the Grand Inquisitor – about what it means to pray. These three men. Three energies in action. For that moment it was a symbol of a single human.
There are many such moments – threads – in the play leading us to the deeply poignant end. The poise, presence and dignity of the actors, their honest portrayal of struggle and the simply effective direction and set all contribute to a richly rewarding experience.
Vergine Eayrs
The production of Heresy at the Tabard Theatre runs until 22 March.
Photograph reproduced courtesy of Ian Trayner.
A Second Review
Overall, the performance had a very powerful impact on me. Something was very deeply shocked and penetrated and I left feeling quite stunned, wondering what I had just seen and not wanting to talk to anybody. The only other time this has happened was the first time I saw Ikiru. I couldn't use words to describe this feeling but I was grateful for it.
Contrary to expectations, the first act was not at all dull and I found myself enjoying the performance from the start. By enjoyment, I mean called to attentiveness rather than called to abandonment. Some parts were pleasingly humourous.
There are a few minor criticisms. There was a lack of sexual tension and emotional longing between Carlos and Rosario so it felt that their opening scenes were a little cold especially as these were two people at the prime of their sexual lives and latinos to boot. As a result of this, Carlo's jealousy was not very convincing.
Equally, I was not convinced that Don Domingo was pining for his lost love, or that he would be capable of the extreme cruelty demanded of a Grand Inquisitor. Finally, there could have been a more palpable sense of the terror of the Inquisition and the danger that the Cathar characters faced.
However, this should not detract from the fine quality of writing, directing and acting, and I hope that Heresy outruns the Mousetrap.
Simon Taylor
A Third Review
The play raises some deeply disturbing questions. Most of all, how can any religion, even once it has become institutionalised, perpetrate unspeakably barbaric acts on a massive scale in the name of "truth" which has become fixed and imposed, leaving no room for individual experience and questioning? How can any real truth be learned? One thing is clear from the play – that truth certainly cannot be imposed on anyone without tragic consequences. It is not difficult to imagine that in real life, the members of the Inquisition would have tortured and murdered their own families rather than risk being branded as heretics themselves. But what causes people to ignore their own innate common sense and instigate such appalling violence? The direction indicated in the play is the colossal influence of fear – fear of loss of position, loss of standing, of not conforming, and fear of the unknown, which prevents us from opening to a deeper experience of ourselves and to others.
Could the play also be perceived as a metaphor for our human condition, with the individual characters constituting different aspects and qualities of our inner life, and can they be reconciled?
Heresy is demanding to watch, and although the first half is perhaps a little too long, the second half builds to a quietly riveting climax as Dom Domingo has to decide between his obedience to the Church State or the people in the world who are dearest to him, and alongside them – his conscience. One aftershock from the play is an increased interest in finding out more about the Cathars.
Geoff Butts