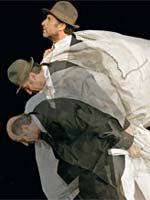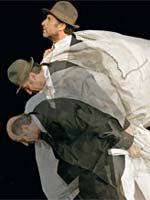 On seeing the 5 short plays by Samuel Becket directed by Peter Brook
I find myself reluctant to write of plays in which words have been so tellingly pared down to a poetic minimum; one needs to experience for oneself the depth that the prodigious skills of the actors, under Peter Brook's direction, bring to this performance.
Becket's characters are alienated individuals such as one might see on any city street. They are blind, handicapped or living in bags, talking largely to themselves, each with a limited repertoire: an access of apparent kindness is succeeded suddenly by self-interest or the inability to bear the other person. Laughing at the abrupt transitions or the repetitious behaviour, to which the actors bring such vitality, one is offered a moment of inner recognition-and even maybe, compassion.
The actor Kathryn Hunter becomes a little old woman sitting on a bench, watching darkened windows. We experience her tentative searching and sighting of a glimmer of light: do her ramblings refer to herself, her mother-or to you and I? There is a wistful world of longing reflected in the subtly changing expressions on her face.
In these short plays, the action, so intensely lived, calls for one's undivided attention and leaves strong impressions that later flash upon the mind as visual metaphors for the human condition.
September 2007 Lesley Croome