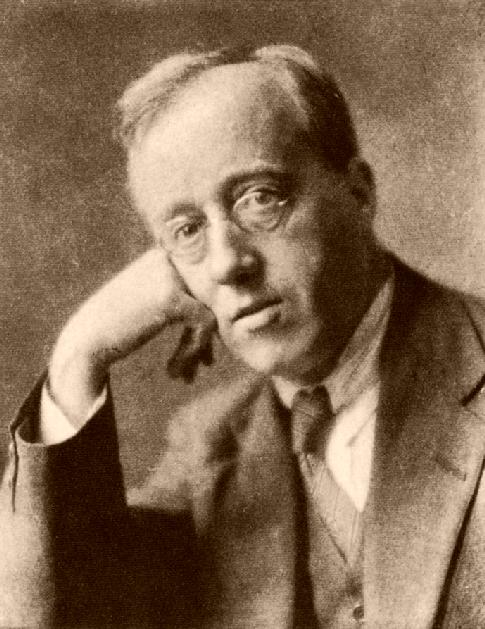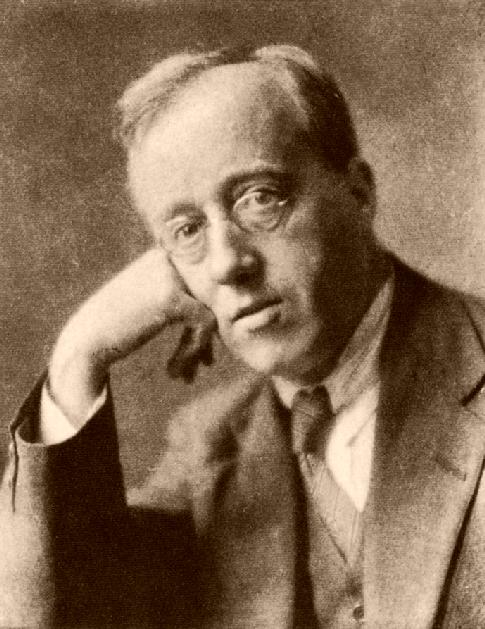 THE MUSIC OF GUSTAV HOLST. 1874 – 1934
The first 'classical' music to ever captivate me was 'Mars' from Gustav Holst's 'Planet Suite'. I was just a small boy but hearing the strong rhythmic beats and the way this wonderful piece develops led me to want to own a recording of it. Having found out its name from the BBC, since it was the music used to introduce a serialized version of Conan Doyle's 'Lost World', I went to a record shop and bought a 78 rpm recording of it. I played it at home many times on my gramophone and it both stirred and delighted me. Even then I liked to question things and the BBC had told me that this piece of music was from something called 'The Planets Suite'. I gradually bought them all. Yet I was puzzled, none of the adults I spoke to about it could name anything else by this composer which seemed very odd to me.
To my amazement this situation continued but I was not prepared to leave it at that. I found in my local library a biography of Holst written by his daughter, Imogen and I found out many things about him and the many works he had composed. For example apart from composing many very English works he was born to a family of German extraction (by way of Latvia and Russia) although the family lived in the quintessentially English town of Cheltenham. Holst studied music at the Royal College of Music where in 1895 he met fellow student Ralph Vaughan Williams who became a lifelong friend. Vaughan Williams's own music was, in general, quite different from Holst's but he praised Holst's work abundantly and the two men developed a shared interest in exploring and maintaining the English vocal and choral tradition as found primarily in folk song, madrigals and church music.
As time went by I listened to more works by Holst and began to realise that he was a much-underrated composer. Holst composed almost 200 works, including operas, ballets and songs. His music is well known for the unconventional use of metre and haunting melodies. It seems extraordinary to me that to this day, even though Jupiter from The Planets Suite was recently chosen by The Daily Telegraph for inclusion in its free CD entitled 'Music from the Masters' (three of the seven being Beethoven, Tchaikovsky and Mozart) and 25,000 people recently submitted their desert island playlists to the Radio 4 website and of the eight choices The Planet Suite was number eight, very few would be able to name any other compositions by Holst.
When I first listened to his suite Beni Mora my interest in Middle Eastern music began. The composition came about through Holst's being an avid rambler. He walked extensively in Italy, France and England. He also travelled outside the bounds of Europe, heading to French-controlled Algeria in 1908. His travels in Arab and Berber lands, including an extensive cycling tour of the Algerian Sahara, inspired the suite Beni Mora, written upon his return.
My liking of Holst's music continued throughout my life and I was surprised to find that I was living perhaps less than ten minutes walk from St Paul's Girls' school where he became music master in 1905 until his retirement. Holst also became interested in Hindu mysticism and spirituality, and this interest led to the composition of several works set to translations of Sanskrit texts, including: Sita (1899–1906), a three-act opera based on an episode in the Ramayana; Savitri (1908), a chamber opera based on a tale from the Mahabharata, four groups of Hymns from the Rig Veda (1908–14); and two texts originally by Kalidasa: Two Eastern Pictures (1909–10) and The Cloud Messenger (1913). The texts of these last three works were translated by Holst himself, after he made the extraordinary effort to teach himself Sanskrit.
Shortly after his return in 1913, St Paul's Girls School opened a new music wing, and Holst composed the very appealing St Paul's Suite for the occasion. Holst's compositions for wind band, though relatively small in number, guaranteed him a position as the medium's cornerstone, as seen in innumerable present-day programmes featuring his two Suites for Military Band. His one work for brass band, A Moorside Suite, remains an important part of the brass band repertoire.
The theme from Jupiter has been adapted as a hymn tune under the name of "Thaxted", and is usually sung to the words 'I vow to thee my country'which has become almost a second national anthem. Other compositions include The Hymn of Jesus (1917) (based on the Apocryphal gospels), The Perfect Fool, and one of his last compositions, The Brook Green Suite, named after the land on which St Paul's Girls' School was built, was performed for the first time a few months before his death. Holst died on 25 May 1934, and his ashes were interred at Chichester Cathedral.
On Sunday 27 September 2009, after a weekend of concerts at Chichester Cathedral in memory of Holst, a new memorial was unveiled to the public. On it are inscribed Holst's dates, and an epitaph, taken from the text of The Hymn of Jesus, reading "The heavenly spheres make music for us".
Jeffrey Somers