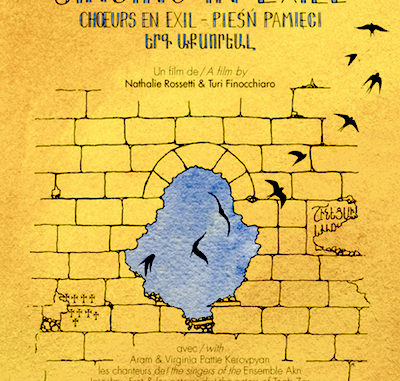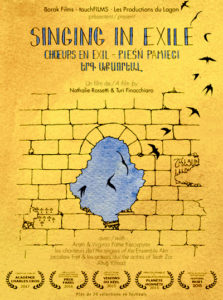 This was the first public screening in London of a documentary film directed by Nathalie Rosseti and Turi Finocchiaro which followed Aram Kerovpyan, a master singer in the ancient tradition of Armenian modal singing and his wife Virginia Pattie-Kerovpyan (both of whom are members of the Akn choir in Paris) in their work with a Polish theatre company (Theatre Zahr). The film commences with scenes observing the Kherovpyans and the actors during their first rehearsals, where the actors start the process of learning about a new "sound world"– the use of modal, monophonic music – which has much finer intervals in comparison with the more modern polyphonic choral music that was introduced to accommodate the modern even-tempered scale and harmonies used predominantly in church services today. The early encounters between the Kerovpyans and the actors are intercut with moving excerpts of performances by the Akn choir in Paris of the Armenian traditional liturgy. An intense quality of listening is evident, not only between the singers but also to themselves.
The singers and actors embark on a journey together to Turkey to visit the neighbourhood in Istanbul where Aram Kerovpyan spent his childhood and Anatolia where they explore some of the ruined Armenian villages and ancient churches that were abandoned after the massacres in 1915 and 1916. To watch such beautiful ancient buildings abandoned and left to crumble is not easy. The resulting diaspora of Armenian people all around the world has kept this event very much alive in subsequent generations. Towards the end of the film, scenes from Theatre Zahr's resulting production are shockingly introduced amidst the ruins.
It would have been easy to conclude on a pessimistic note by focussing on the events of the past, but an unexpected and welcome path is chosen – with an emphasis on the healing power of this music. The direction and sound editing of the film is highly sensitive both to the participants and their surroundings.
The Kerovpyans introduced the film and responded to questions after the screening. It was striking to hear how Aram Kherovpyan first recognised an old master singer in Istanbul cathedral from his hand movements, and after being instantly drawn to the quality of sound, how he "stuck to the master like glue and he in turn stuck by me". This anecdote struck home to me how the most real, vital element of any culture is an oral tradition – passed from person to person. Is it not true that the buildings and monuments left behind are but an echo of something much more immediate and alive?
DVDs of the film can be purchased from the Armenian Institute:-
http://www.armenianinstitute.org.uk/