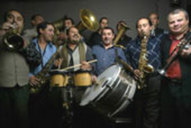 An introduction
Once a year the Barbican puts on a festival of Gypsy music, and it is a rare opportunity to see real gypsies playing music that inspires my own accordion playing.
When the Fanfare Ciocarlia walked onto the stage, suddenly the atmosphere was crackling with energy. The audience went wild as a few ageing Romanian men took their places, poised and confident in movement,each with a brass instrument and with what seemed to be a sense of awe at the response from the audience. The music started; fast, furious and precise. Now I realized that it wasn't just the rhythms that moved my body to follow, but something that was zipping through the air, between everyone in the concert hall. By the second tune, people started to flood down to the small aisle at the front, and soon a throng,including myself, were dancing in this usually most uncompromising of venues. Was I tired any more? No way!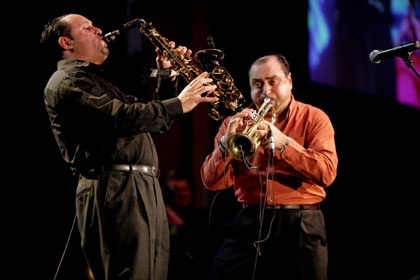 Fanfare Ciocarlia, are an 11 piece brass Gypsy orchestra from Zece Prajini, a small Romanian village near the Moldovan border, and they have a fire and life when they are playing which comes from where? Their faces, bodies, instruments and voices look and sound lived-in, inhabited.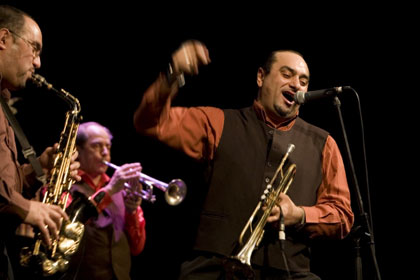 Their traditional function in the community is to play at weddings and celebrations- as depicted in a stylized way in Emir Kusturica's films 'Time of the Gypsies' and 'Black Cat, White Cat'. A quieter, poetic side of Gypsy music and life shown in Tony Gatlif's 'Latcho Drom'– a film which I highly recommend.
Bands such as these are in high demand and often go from one wedding to the next; in this case from a wedding to a concert venue in Berlin, Tokyo or London then back to their village. It seems from the cover of their album 'Iag Bari', the boys start young in the brass tradition. Imagine the contrast of returning from the West to a rural farming community with no made up roads, sewers or phone lines and intermittent electricity, the horse and cart still the standard means of transport.
The striking thing about the concert at the Barbican was that there were guest singers and dancers from different countries, all Romany gypsies, some of whom have almost legendary status, and who brought quite diverse influences and styles to the music. Each song was quite distinct, with the number of band members changing; the participants moving organically on stage or off to the side to enjoy the music as part of the audience.
When Macedonian Gypsy queen Esma Redzepova walked on to the stage I could not take my eyes off her. She was truly majestic, clad in a gold winged dress and with a voice coming from the depths of the earth. Something about her came across as being immensely human, and later reading about her it became clear that she dedicates much time and money to Romany and humanitarian causes in her home country.
Esma Redzepova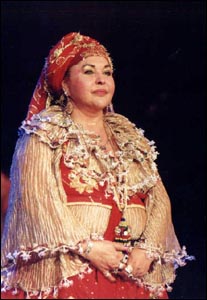 Jony Iliev from Bulgaria appeared using two sticks to aid his walking. He is young- in his 20s or 30s but broke his spine in a car accident while traveling from one engagement to another. This was his first public appearance since the injury, and I found it moving to hear such a spirited full voice come out of his broken body.
Jony Iliev
Other influences came from Mitsou, a distinctive Hungarian female singer from the Gypsy band Ando Drom; 3-strong Kaloome from Perpignan who brought a fusion of North African rhythm and rumba guitar, and Florentina Sandou dancing in a flamenco style, who added visual impressions of how the atmosphere might be at a wedding celebration where orchestra and dancers mingle and interact.
The whole impression was of a group of people brought together by a common passion for music for a celebration of unity spanning differences in culture and nationality; an expression of their particular gypsy yearning, suffering and enjoyment of life.
I bought the CD of recordings with Fanfare Ciocarlia and the artists I had just heard- 'Queens and Kings'. The names of two other singer collaborators, both with outstanding voices and reputations, but who had not been present, were familiar to me: Saban Bajramovic from Serbia and Ljiljiana Butler from Bosnia. I gather that Saban is notorious for not turning up to his gigs, and that Ljiljiana now lives in Germany and sings only rarely, occasionally making an exception for recording with trusted musicians. The common factor for many of these gypsy musicians is that they speak of a recognition of their calling and particular talent from a very early age.
Looking at translations of song lyrics I see that the feelings expressed in Gypsy music are melodramatic, extreme and in some ways basic and simple: tales of differing fortunes in life. The subject is often love and heartache, yearning, pain, loneliness and searching. Often present are the singer's mother and father, death and God. And yet, listening to the music with my ears largely ignorant of the Baltic languages, I am given a completely different impression, with the tunes and rhythms conveying an exuberance of life that compels me to move, dance around the house and which can instantly bring me out of a negative state. These two aspects are built into the music, and where the words may convey Balkan blues, it is never self-pitying. What is it that makes me able to listen to this music time after time? I realize that it speaks to parts of me that are often buried in everyday life and that what it communicates is universal and uplifting.
Natalya Ribeaux