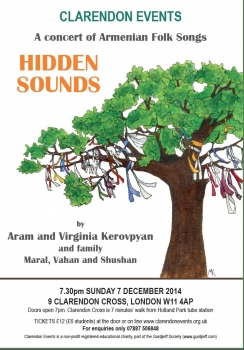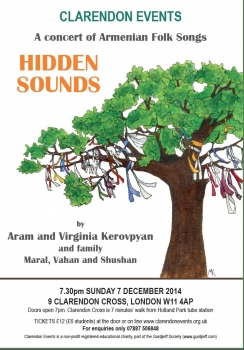 A concert on 7th December 2014
Aram and Virginia Kerovpyan and their three children, Maral, Vahan and Shushan presented a deeply moving concert of traditional Armenian folk songs in the intimate space of Clarendon Cross. It is almost unheard of to hear a whole family performing music of any kind. To hear five such accomplished musicians performing this beautiful, ancient music was a humbling experience. The singing was accompanied by Aram Kerovpyan on the Kanoun (a plucked stringed instrument based on a monochord capable of playing much finer musical intervals than those in the "orthodox" tempered Western musical scale) and Vahan Kerovpyan playing the dap (a round skin drum). Both these instruments perfectly complemented the voices, and anchored the melodies of the songs.
A range of songs were included in the programme, including lullabies, wedding songs, dance songs, songs of place and finally of pilgrimage. How could one describe the quality of the singing? A complete absence of "forcing" was evident from the first note. The voices were gentle yet pierced the audience with their pureness and emanation of feeling for the music. Perhaps even more remarkable was the quality of listening evident between the performers, who were absolutely together, able to pause and start phrases as if there was only one voice. There was a sense of how through music people can come to really know and support one another.
Whilst English translations of the songs were provided, the music conveyed different qualities of feeling without having to understand the words, ranging from joy to sadness to a deeper longing for spiritual help. The Song of Pilgrimage, with the solo soprano voice arching delicately over the other voices was especially touching.
The concert seemed to end almost as soon as it had begun. I would travel a very long way to hear music like this again.
Some links for additional information on related Armenian music are included below:-
http://www.teatrzar.art.pl/en/bio/aram-kerovpyan
http://akn-chant.org/en/centre
Geoff Butts