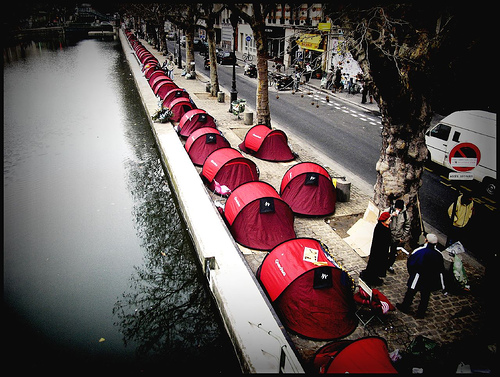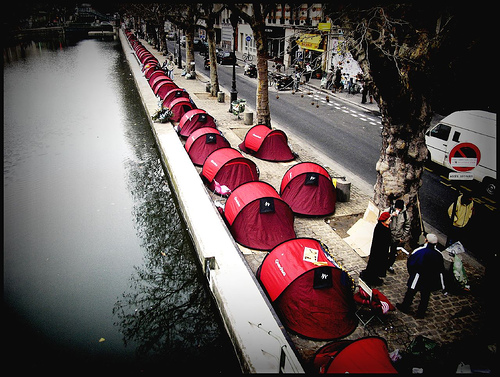 Tents for homeless people line the Canal Saint Martin in Paris. The French association 'Enfants de Don Quichotte' set up the tents to draw attention to the need for long-term accommodation solutions to the city's homeless. There are more than 200 tents.
In common with many other European cities, Paris is experiencing a period of exceptionally cold weather. Snow has even settled in the capital and, very unusually, it has stayed for a day or more, especially on pavements. The impact on public transport in the city has been minimal, but life in the suburbs and provinces has certainly been disrupted. Once the temperature falls below a certain level, a state of alert is declared which in Paris particularly involves the homeless (SDF, as they are termed, short for "sans domicile fixe" – without fixed abode). It was in similar extreme cold in 1954 that the late Abbé Pierre expressed his denunciation of the plight of the homeless, a plea which has since become famous.
Coincidentally, this controversial and popular figure died almost exactly two years ago, at the age of 95. Although a catholic priest, he held radical positions on a number of subjects that made him unpopular with the church hierarchy (his death was not announced by the Vatican newspaper; the Pope made no declaration about him either). For French people however he was immensely popular (even though he was a priest) amongst anti-clericals In 1949 he founded an association for the homeless, which is still very active and controversial. (I see, incidentally, that it has several branches in England http://en.wikipedia.org/wiki/Emmaus_%28charity%29 ).
The association shelters or finds accommodation for 1 900 homeless people every day, and helps some 5000 people on a regular basis. Its activity is not confined to the question of housing: it also seeks to help the homeless to become reintegrated in society and to become self-supporting. Its aid is offered without conditions to whoever is in need, including illegal immigrants, which is why it is often in conflict with government. Abbé Pierre himself was always ready to come to the defence of families who had occupied empty premises illegally.
The scandal of the homeless is made more acute because there are so many flats here that remain uninhabited, sometimes for years, and once again the controversy about this has become a subject of political debate. One source of homelessness is when people are evicted for arrears in rent (a situation exacerbated by unemployment). During the winter it is not possible to evict, but one of the perverse effects of this law is that there are more evictions just prior to this "truce" (which ends in March). During periods of extreme cold teams of people try to convince those who are sleeping rough to go to centres, but they often refuse because they dislike the way they are treated there. At various times of the year certain areas of Paris are taken over by people living in tents (one such area, near the canal St Martin, was forcibly closed by police last year), but others appear elsewhere. Another association, the "Enfants de Don Quichotte", regularly comes to their aid.
As far as the current cold weather is concerned, in these times of concern about climate change, it is easy to have a rather short perspective on the various extremes that can afflict us: high winds, heat-waves, cold…In this context there is a very interesting exhibition which has just opened in Paris to commemorate the centenary of the great flood in Paris, a timely reminder that these climate disasters are by no means a recent phenomenon. It is at the Bibliothèque historique de la Ville de Paris, and lasts until 28 March 2010. Information, together with some very impressive photos from the time, is available through the main site for information about Paris: http://www.paris.fr
Just the bare facts of this flood are hard to believe. The Seine reached a level of 8.62 metres at the pont d'Austerlitz: today an alert is triggered when it reaches 3.2 metres. Although direct casualties were very few (only five deaths) the houses of over 200,000 people were damaged. The flood lasted for two months, and it was only several months later that the Metro was again available for use. Networks of temporary catwalks were constructed to enable citizens to go about their business. The photographic record of all this is extensive and can be studied either at the above site, or at http://www.crue1910.fr
Naturally, there has been some speculation about the possibility of such a flood occurring today. Although the conditions which would cause one are unusual, they are not impossible, and should it come about, the effects would be even more disastrous than one hundred years ago: 2 million victims of damage, 350,000 homes without electricity, 170,000 businesses severely affected or stopped altogether and a total cost of some 12 billion euros. I imagine that the President will be praying that the "flood of the century" doesn't take place while he is occupying the Elysée.
Julian Arloff