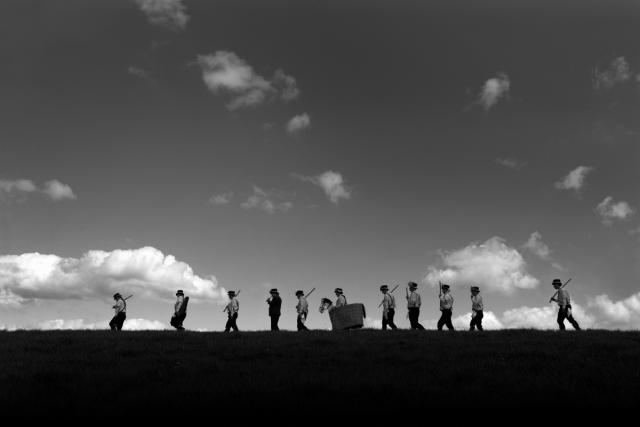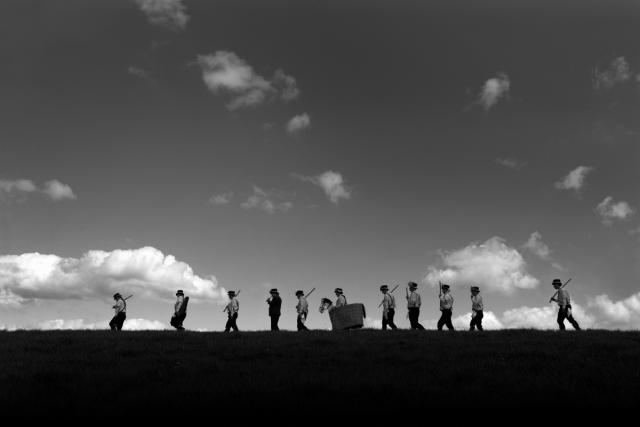 A documentary film by Tim Plester
Fifth Column Films, directed by Tim Plester and Rob Curry
Although I have never taken part, I have always been attracted to Morris dancing. Something in the rhythms and the spirit of the Morris evokes a response deep within me. I do not need to refer to its history or to theories of its origins to know instinctively that this is a tradition with very ancient roots. In part, I believe this deep attraction stems from a feeling for the subconscious current that flows through the rural life of England, a feeling passed on to me by my grandmother.
This feeling is evidently shared by Tim Plester. Near the beginning of his documentary film, The Way of the Morris, he describes how impressions of the Morris ritual are intimately woven into the earliest impressions of his childhood world. He precedes this with a little animated creation myth (I don't know its provenance) which serves to emphasise that those pure early impressions are always new – they are impressions of a new Universe, a world before time.
Plester makes no attempt to provide a comprehensive account of the Morris tradition or its origins – he doesn't try to burden us with 'facts'. Instead, he wants to tell us the story of how and why some young men – his own father among them – revived the Morris in his home village of Adderbury in Oxfordshire. Before the Great War, the village's Morris side was enthusiastically supported by its young men, but by 1918 all but one of them was dead and the tradition – unable to sustain the loss – came to an end. The leader of the revival in Adderbury – Bryan Sheppard – sees this as a symptom of something much wider; something important in the rural life of England was killed by that war. Of course the countryside's economic decline had begun long before, and it continues to this day – huge economic forces have severed the connection to the land. But this is not just about economics, it is something cultural and even spiritual – at the time of that disaster something, some inner connection, was broken. So, at the end of the 1960s Sheppard and his friends – like many others in other villages – tried to mend the rupture and re-establish this link by reviving the Morris.
The film follows the Adderbury men as they travel to France to pay heartfelt respect to the memory of the Morris men of the village who died on the Western Front. My ten year old daughter protested at this – 'Why are they only remembering them?' she asked, ' What about all the others who died?'. There is a reason – the loss of those few men and what died with them is representative of a much greater loss, one that encompasses all the others.
I have heard – although I may be mistaken – that there are plans to include Morris dancing in the opening celebrations of the 2012 Olympics. From one point of view, this is almost commendable – at any rate, a welcome repudiation of the Blairite obsession with 'coolness' and superficial modernity. But how could it be anything other than a travesty, like those displays of 'folk' dancing which communist states used to put on? Morris dancing is not a performance – it is, if you like, a rite, conducted by men in their own place (even if they are far from home) and with their feet on the Earth.
_Felix Dux
Available on DVD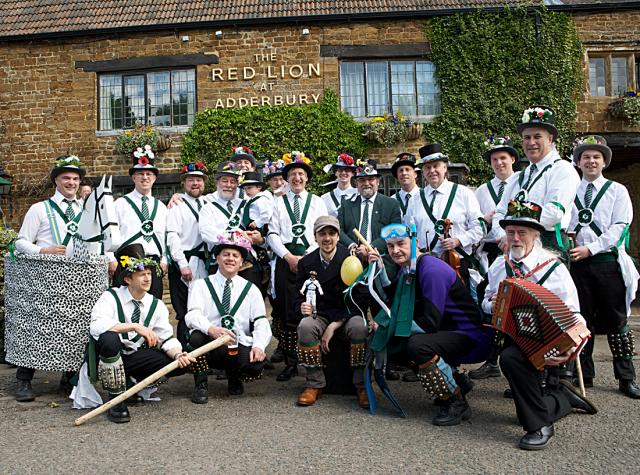 Adderbury Morris men today and the village troupe before the Great War