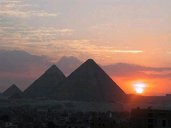 Our backpacking holiday to Egypt to visit some of the ancient sites was full of impressions, starting with the journey when we flew with Romanian Airways via Bucharest (recommended if you want to witness the most bureaucratic aircraft boarding process). There were many highlights, including finding ourselves alone in the Great Pyramid of Cheops listening to the resonating silence, and the grandeur of Karnak and the Valley of the Kings.
Travelling in Egypt was a rich experience. The taxi ride from Luxor to Aswan, stopping to explore temples along the Nile, gave an opportunity to witness life away from the main towns and cities and appreciate how difficult it is to make a living. The return journey by train illustrated the painfully precarious reliance of agriculture on the river Nile which (just as 5,000 years ago), sustains a small ribbon of cultivated land from being engulfed by the desert.
Looking back, we were overwhelmed by the number, scale and quality of the buildings and treasures that we witnessed, and we will undoubtedly return. From the discoveries so far, it's clear that the ancient Egyptian civilisation lasted for at least 3,000 years, despite wars and numerous upheavals. It is a legacy that we do not understand but which surely did not belong to a "primitive" and "uncultured" civilisation.
But one artefact stood out. In a dusty room on the ground floor of the Egyptian Museum in Cairo, far away from the crowded Tutankhamen exhibition stands the wooden statue of a man, Ka-Aper, that was found in a tomb in Saqquara. It dates from the 5th dynasty of old Egypt, and is approximately 4,500 years old.
It is unclear what this individual's role was, although there are theories that he might have been a high priest or high-ranking official. It's a life size figure, and the man is depicted walking with a long stick. It's carved from a single piece of cedar wood with the most acute observation of overall body shape. The face is absolutely clear, and above all, the eyes are coloured with inlaid lapis lazuli which creates an incredibly strong impression of someone looking far into the distance ahead of them, but also looking deep inside.
Seeing this statue provided an enormous inner shock, a demand to search for something more sincere in oneself. We fully expected this wooden man to start speaking and moving. But in a sense it is speaking to us continually – of the need to search. Overall there is an overwhelming impression of an ever-present "Now" from this statue which is no less relevant today than it was 4,500 years ago.
Geoff Butts