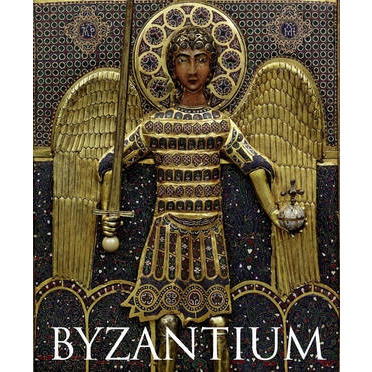 At the Royal Academy of Arts until 22nd March 2009.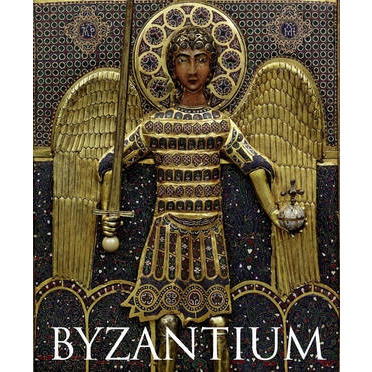 The only important thing to say about this exhibition is don't miss it. If you did not get to New York in 1979 to see the Metropolitan Museum's 'Age of Spirituality' (3rd to 7th Century), or in 1997 for 'Glory of Byzantium' (843-1261), or again in 2000 for 'Byzantium: Faith and Power' (1261-1557) then here you have a compact and comprehensible résumé of all three of these blockbusters of Byzantine art. There are 323 exhibits but many of them are coins, pectoral crosses and other minor artifacts of relatively small interest unless you are a specialist. This leaves about 100 ivory carvings, enamels, mosaics, manuscripts, precious liturgical objects and, above all, icons of astonishing grandeur and heart-piercing beauty.
But beauty, in the work of certain masters of sacred art, was a veil designed both to seduce you and, at the same time, to hide something that ordinary human thoughts or emotions cannot measure. In my (subjective) opinion there may be several paintings here that merit the epithet 'objective'. If you are a seeker you may sense for a moment what normally cannot be shown.
A prize should go to Isambard Thomas for 'book design and cartography'. The 500 page catalogue, in its design and lay-out, is worthy of the dazzling quality of the exhibits. There are quite useful introductory essays that help the reader unfamiliar with Byzantine culture find some orientation. The actual catalogue entries are just dull; conventional, safe and patronizing. Such routine academism completely fails to acknowledge the mystical and spiritual dimensions of medieval Orthodox Christianity that the public so obviously instinctively responds to.
Late night Friday opening might be the best time to go when it is less crowded. You need to be in a contemplative state of mind.
Richard Temple The Temple Gallery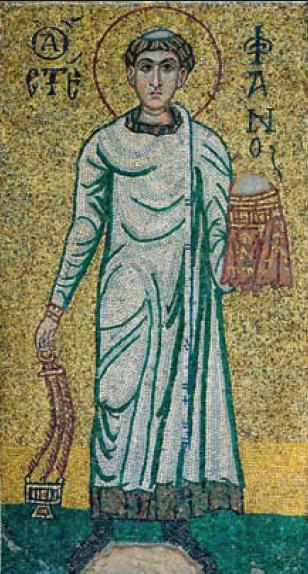 Unknown artist, Mosaic icon of Saint Stephen, c. 1108–1113.
Tesserae on stucco, 218 x 118 x 7 cm. National Conservation Area, St. Sophia of Kiev
At top of page: Icon of the Archangel Michael, Constantinople, twelfth century
Silver gilt on wood, gold cloisonné enamel, precious stones
Basilica di San Marco, Venice, Tresoro, inv. no. 16
Photo of the exhibition catalogue