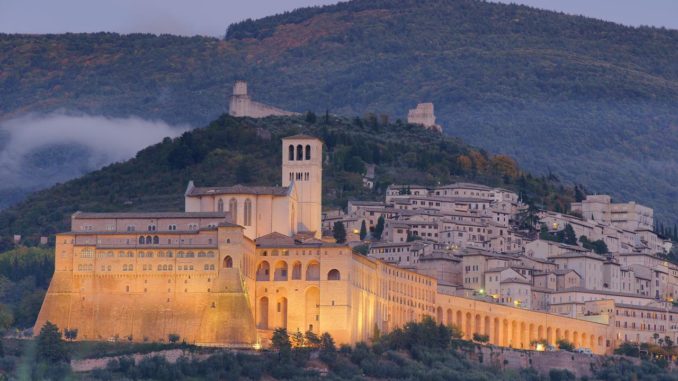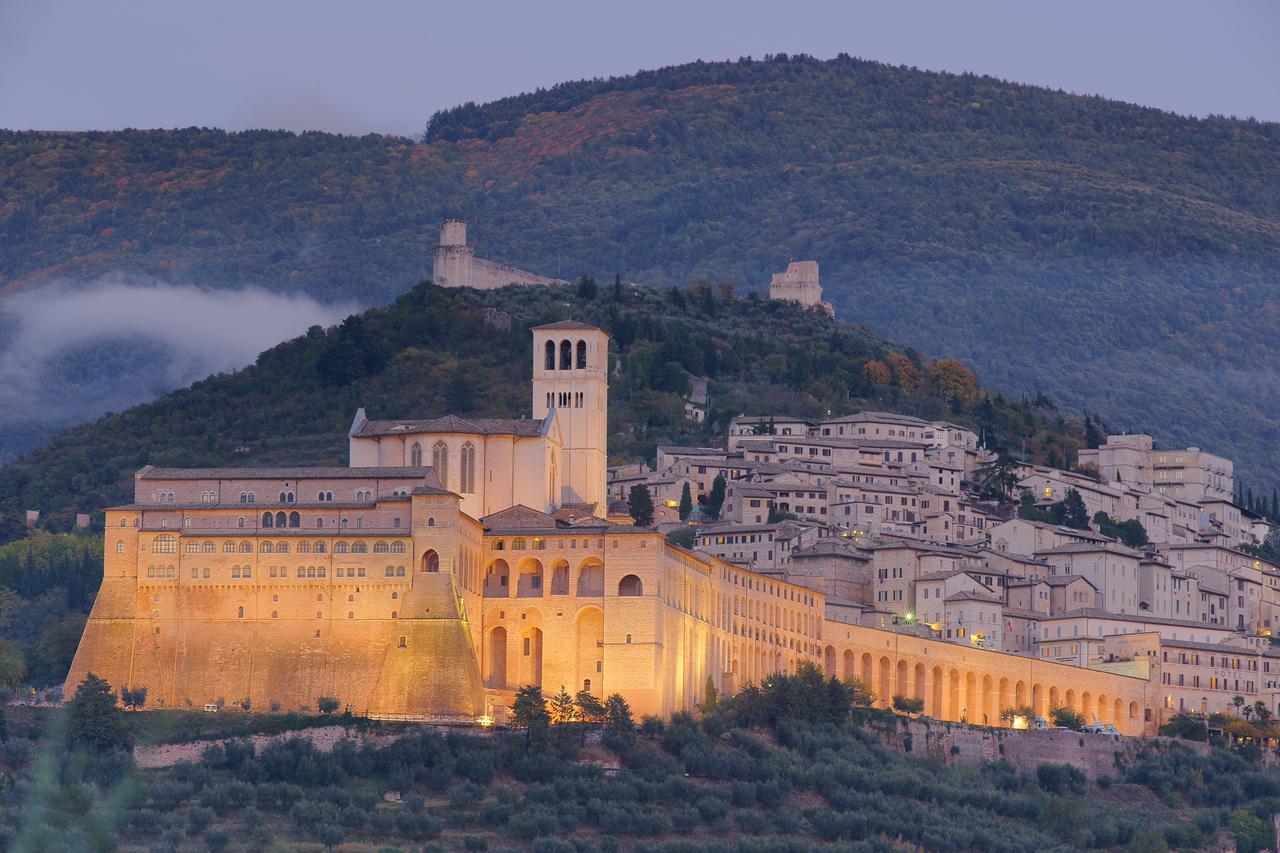 Part 1 – Initial Impressions
My actual point in writing this is not to say what I did here but what the place brought out in me. It is a beautiful town, and a place like no other. Its medieval streets are really perfect, inviolate. It is the home of a Saint who has been called 'The first true Christian after Jesus'.
I arrived in Assisi, the birthplace and homes of both St. Francis and St. Clare, with two younger friends. We had planned to stay for just two nights, but for reasons which I hope to express in this article, I stayed for two and a half months.
Our first residence was a beautifully converted Roman wine cellar, now a two-bedroomed, self-catering apartment. I have never showered before while admiring a perfect Roman arch above me! The garden had other, more or less ancient, artefacts nestled in the walls, amid almond and cherry trees.
Our host was an incredibly agreeable man, full of enthusiasm and playfulness. Like a child who had not yet felt the need to become serious-minded and certainly the kind of man you could never possibly imagine tired. He unapologetically confessed that he believed in and prayed to the ancient Roman God Minerva. We all liked him very much, especially for how he loved Assisi with such visible and expressed affection: splashing himself in a water fountain near his place he said: "All water, all in Assisi is pure – come from Appenines – most beautiful."
Our first night was a little uncanny. I had been here years ago, but now walking these same streets in search of a restaurant, I found that the streets were deserted and we had the town to ourselves. We only saw two other people, and each time we entered a restaurant the restaurant owners could not hide their surprise at our arrival. As we later learned, the earthquakes in central Italy (which is where we were) from two to three months before, were still affecting people's minds, especially away from Italy, and it was only the Italians who were really in the know enough to visit here; a place which had not actually been directly affected.
We sympathised with the locals a great deal, as we could feel the effect it was having on all their businesses, but privately I also appreciated the fact that the city was more itself. The crowds were non-existent and we could see the city as it really was. Commercialism was yet to show its face. Assisi  is quite small, set on the side of a great hill, with olive forests hidden above the city. All of this is encircled by an entirely intact perimeter of ancient walls, with approximately 8 or 9 large and beautiful stone gates, some of which have equally ancient-looking wooden doors. In order to drive a car into the city a special license from the Mayor is required. This means that the streets are almost all pedestrianised, and they form a labyrinth of curling lanes, one into the other, like a playful, narrow maze. Playgrounds for children, an example of what is considered too modern, are all outside the city gates.
My friends left for Milan and I moved from a five star location to a 1 or 2 star. I wanted to do something, a gesture in the spirit of St. Francis.  I had seen in my time many pilgrims come to Assisi, many of whom stayed in very nice conditions indeed, as my friends and I had done too. But wasn't St. Francis about giving up privilege; the voluntary embrace of poverty and the giving away of one's material riches for a purer life, after the counsel of Jesus? If I wanted to really know Il Poverello, the little man of poverty (and I did want to!), I felt I should meet him by following him, not in any other way but by my deeds, my very life. Indeed, it was not simple to follow him for he made Lady Poverty his bride, and that embrace, that marriage, is really very difficult for history or people to misconstrue.
Strangely though, a few days after I had finally accepted that I would be living for the next month or so in a very tiny room with a small window, my host came to me one morning and apologised, but said that she had to move me to another room. The price stayed the same but I now had a double bed, two lovely windows with views, a writing desk and a Kettle with bowls and cutlery. It was similar to being given food after days without, having all these 'gifts' given me unexpectedly. The new room could fit four of my previous room within it, easily.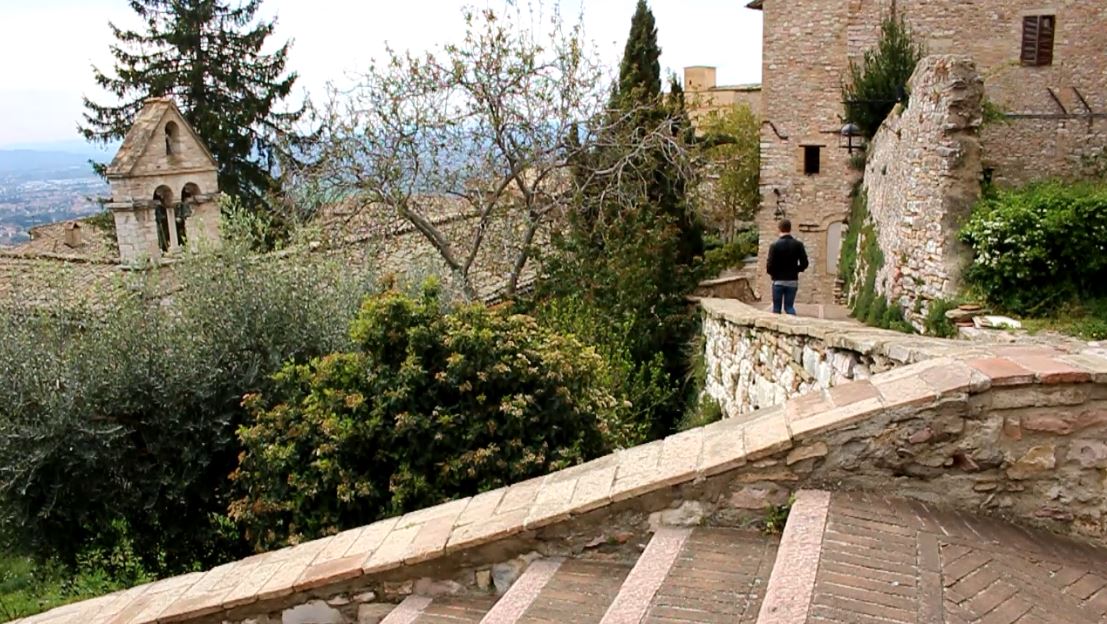 Part 2 – Walking and Living in Assisi
I had been in Assisi for a few days when I decided that one thing I really wanted to do was climb Mount Subasio, a mountain which rises above the hill Assisi is on, where St. Francis often went alone to pray for days on end. I set off without knowing a real route and just followed my sense of direction. This indeed took me towards the top, but via an extremely steep, almost inaccessible and seemingly never visited, rocky pathway. It was extremely difficult to walk in these conditions and at one point I found a small white rock with some French writing written on it which basically said "No access to Subasio this way!" It was not the poorly translated words I had understood which startled me so much, but the fact of the exclamation mark they ended with. I was absolutely certain that a traveller who had walked up this path had not got to the top of Subasio and wanted to let other foolhardy travellers know.
But this is not my real memory of this walk.
For a long time  I had wished to 'come back' to a purer life, a life I knew very well but had not experienced so much in recent years. It was a life I could not quite access and it pained me, although I did understand that my particular working life in the tourist industry had made that difficult, and life had given me other, great things, friends as well as wealth. Now I was free though. The hotel where I had worked was closed for the season and would not need me till May, in Spring. I felt almost providentially free, and even had the ease of thought to entertain the idea of simply staying to live in this city. I knew I could actively pursue something if I wanted, and I knew what I wanted to invite into my life, and that was Grace.
Grace for me is an awareness of one's gratitude and one's opportunity in life. It also means that one is aware that one is loved. For me, it is very much a realm. I had known this realm in my life very finely, but it had faded  and I knew that most of all I wanted to re-encounter this one thing.
Ever since a young man, while climbing mountains in Ireland, or in Britain, I always without fail climbed as if it were a pilgrimage and a quest, no matter the mountain, no matter the rise. I always felt that by reaching the top I would put that quest in a good way to my Creator and see, through my efforts, if it could be answered. I was never disappointed.
I felt different as I climbed back down this mountain. A single white flower, a new expanse, possibility…. opportunity! It was all there with me. Something so subtle around me now.
In the next few weeks I began again to fast, twice a week, on bread and water, until 9pm. During this time I learnt also how to pray again. I prayed, not for myself, but for others. Even at café's where I had coffee on occasion my whole centre seemed to be a prayer for those I saw. And it was all so sincere.
At one moment, as children passed me, one smiled a tremendous, joyous, simple smile towards me that went straight into my very heart. I felt lighted. I thought to myself:
"How did I get to this moment? Did I create this? What is the nature of this?"
During my last days, when I explored all the streets and the olive forests above the town itself, and sunbathed on the seldom visited paths which had the greatest views of Assisi, I would sit as still as I could. Soon lizards, a squirrel, or white butterflies would appear. I was suddenly reminded of how much I loved butterflies as a child. What happened to that love? – I asked myself. Is it here with me now? And as each fluttered for an instant close by my face, in the quick succession of their flight, it seemed each time, so much like a kiss.
Above one of the main entrances to the town there is written in Latin, something to the effect of:
I have asked that this city and its people will forever remain holy, and that many pilgrims will be blessed here.
St. Francis
I would not ordinarily believe such a thing. I would consider it as a plaque created to attract pilgrims, but in this circumstance, after living for two and a half months here, seeing everything I have seen, and living among some of the most lovely people; people who pray, fast, celebrate Jesus in the Eucharist, and try to live a little like St. Francis and St. Clare I am impressed by its truth. Even though it would be curious now to see people kiss lepers*, are there not similar things we can do, in essence, always? … and do these things not give us real treasure? … and so, I do indeed find myself expressing here a real sense of my value of this city and its people, as inspiring me . to the very point of Grace.
Simon Francis Hambrook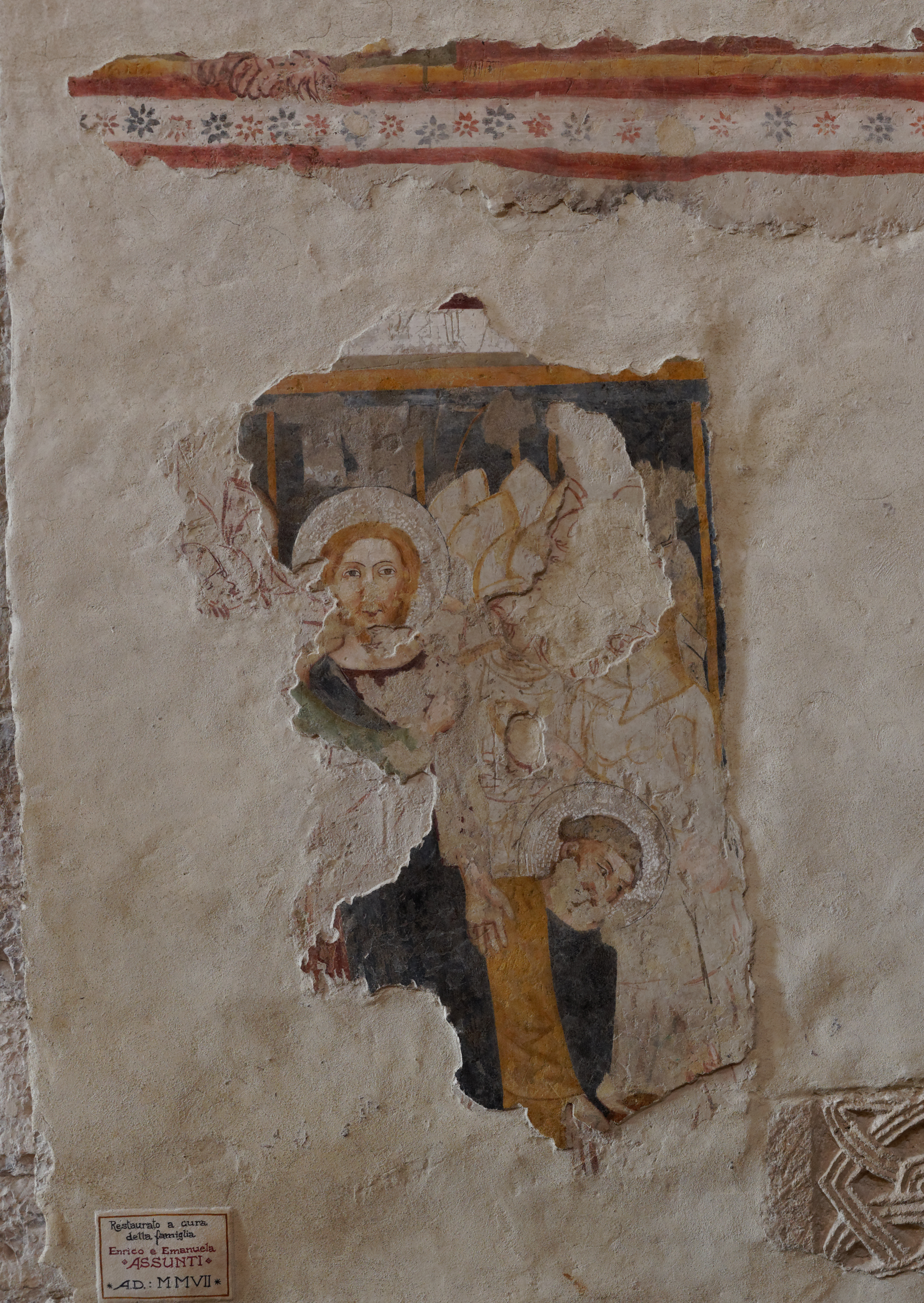 * St. Francis was known to be revulsed by lepers, and fearful of them, until he appears to have analysed his revulsion, and saw how unjust it was. Indeed, he seems to have been aware of how a loving attitude was just what the marginalised needed. He reformed his attitude to them so resolutely from this moment, that he endeavoured to seek them out, and cared for them, with his brothers and St. Clare, throughout his life.