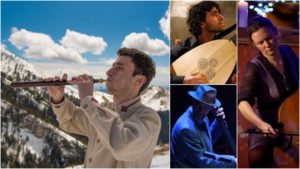 How often are we willing to be confronted by and listen to unknown music? This was a question that had to be faced when we attended a recent concert in a remote location on the Quantock Hills.  There were four musicians – Jenny Bliss (a multi-instrumentalist who plays the violin, flute and other Baroque instruments as well as being an accomplished singer), Arsen Petrosyan (an Armenian master duduk player), Yair Avidor (a lutenist and guitar player from Tel Aviv) and Ben Hazleton (double bass and table).
As a life-long clarinet and recorder player I have long been entranced by the plangent quality of the duduk sound, one of the main instruments of traditional music in Armenia – to the point where I had recently purchased one. How would this ancient instrument sound with Western instruments? What pieces would be presented?
What followed was the most eclectic programme I have ever witnessed.  Apart from the Biber sonatas, there were sacred songs from Armenia, madrigals by John Dowland, jazz, folksongs and even a version of a Leonard Cohen song. The musicians took turns to describe the pieces to the audience, and this informality helped to closely connect the audience to the performers.
The duduk blended beautifully with the other instruments, most of all when playing the alto part beneath the violin on madrigals, when it sounded uncannily like the human voice. Each of the players had the opportunity to demonstrate their own virtuosity as well as ensemble playing. What was most apparent from listening to these incredible musicians was their sheer joy in participating together.
We left the little barn in wonderment at a glimpse of a new musical landscape, uplifted.